Coming in August
UNDEFEATED
A War Widow's Story of Faith and Survival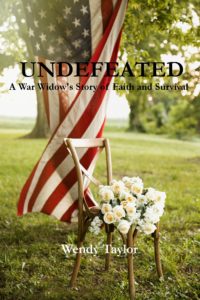 A look inside:
It was a Sunday—uneventful for the most part. Earlier that day, I was at a birthday party with my eleven-year-old son, Justin, and my six-year-old daughter, Meredith. Home from the festivities, I began to make dinner. I had just started making spaghetti in the kitchen. The children were playing together upstairs. Just as the sauce began to simmer, there was a knock at the door. I thought nothing of it. I put down the spoon I had just used to stir the sauce, wiped my hands, and started down the hallway.
I pressed my eye to the peephole.

A man in a military uniform stood there.

I opened the door and immediately felt my chest tighten—a chaplain stood behind the uniformed man. I couldn't quite grasp what was happening. Why they were on my front porch?
I hope you enjoyed this sneak peek into Undefeated.
Undefeated will be available for purchase at most major online retailers.