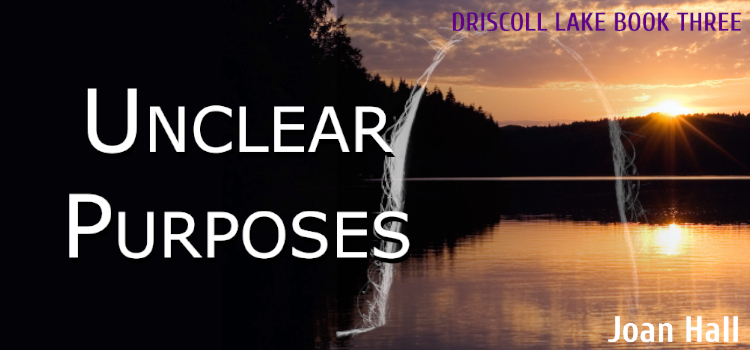 You saw the cover a few weeks ago, and now AIW Press is proud to announce the release of Joan Hall's, Unclear Purposes. It is the third and final book of her Driscoll Lake Series.
Blurb:
Some people take secrets to the grave…
Three years after her husband's murder, Christine Lawrence still struggles for balance. She has a rewarding career and a close circle of friends but feels oddly unfulfilled. Worse, the close relationship she once had with her teenage daughter has grown increasingly strained.
Former FBI agent, Vince Green, is battling demons of his own—painful secrets that drove him from Driscoll Lake. Newly resettled in the small town, he makes his living as a private investigator.
When Vince and Christine cross paths, stumbling over the body of a murder victim, he's forced to confront memories he thought long buried. The circumstances surrounding the killing are eerily similar to a victim from his past.
As the body count continues to rise, Christine finds herself drawn to Vince. With a murderer stalking the streets of Driscoll Lake, neither is aware the killer has targeted her as the next victim—or that Vince's past is key to unmasking a disturbed and deadly killer.
To learn more about Joan and her other works, visit her website or connect through the following social media links:
Website   |  Goodreads  | Twitter   |  Facebook   |   Pinterest    | Instagram   |   BookBub