Love Finds A Way Cover Reveal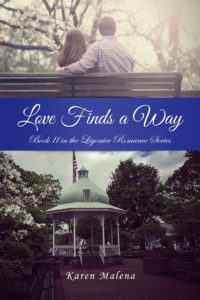 AIW Press is proud to reveal the cover for Love Finds A Way by Karen Malena.
Karen Malena comes from a close-knit Italian family which has given her the inspiration for her stories, some humorous, others thought-provoking.
Today, we are pleased to share with you not just the cover for her upcoming novel but a brief excerpt as well.
Step into Ligonier, a quaint Pennsylvania town that will welcome you, warm your heart, and take you into a journey of longing, faith, and ultimately, lasting true love.
Glancing around, knowing she was alone, McKenna went over to the corner of the room. She crouched beside the dryer; shame and guilt sickening her, but she slid the slender pen knife from the pocket of her uniform, rolled up her sleeve and jabbed the point into her upper arm. The droplets of blood that welled up made tears spring to her eyes, but after the initial sting, calmness descended upon her. Breathing deeply, letting only the feeling of exquisite pain envelop her, she closed the small blade and dropped it back into her pocket, rubbing at her arm with a paper towel from the dispenser near her. She pushed her long sleeves back into place before heading out the door.
We hope you enjoyed this sneak peek of Karen's new novel. Love Finds A Way, will be available soon for purchase.