AIW Press is proud to reveal a new cover for Unseen Motives.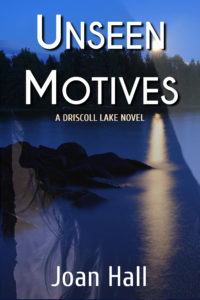 Things aren't always as they seem…
Stephanie Harris is no stranger to mystery and suspense. The author of several best-selling thrillers returns to her hometown of Driscoll Lake twenty years after her father's suicide when her great-aunt Helen dies.
She hopes to settle Helen's affairs as quickly as possible and leave behind the place where she suffered so much heartache. Soon after her arrival, Stephanie stumbles upon information that leads her to believe that all is not as it seems.
When she digs deeper into secrets long buried, she begins to receive warning notes and mysterious phone calls. The threats soon escalate into deliberate attempts to harm her. Stephanie soon finds herself caught in a web of deceit and danger.
Undaunted, Stephanie searches for clues about the scandal surrounding her father's death. But discovering the truth places her in the path of a cold-blooded killer.
Originally published in 2016, we are excited to have Joan Hall's Driscoll Lake Series published by AIW Press.